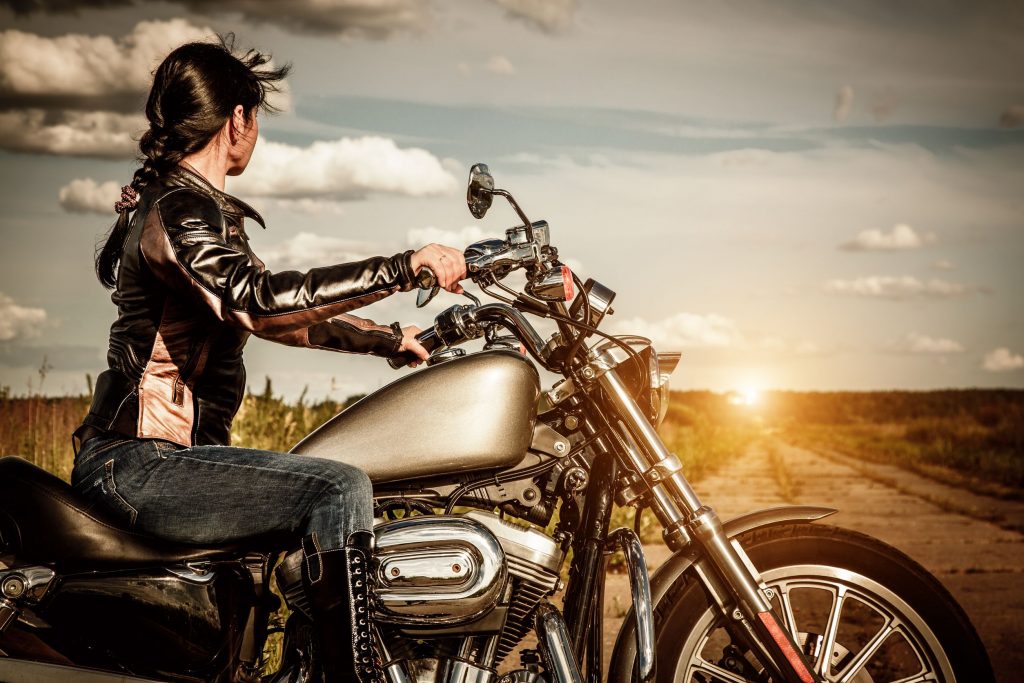 Right now is a great time to go for a road trip on a motorcycle, but it is important to stay safe and to know what you're doing.
The following article is intended to inform you about Oklahoma's state motorcycle laws and provide some general safety tips.
Oklahoma Law
Motorcycle Requirements

Your motorcycle must have a headlamp that is illuminated at all times of operation, and is between 20 and 54 inches off of the ground.

Your motorcycle must have a tail light that is between 15 and 60 inches off of the ground, and a reflector.

Motorcycles made after 2005 will need turn signals.

Your motorcycle must have side mirrors on both sides.

A braking system must be in place on your motorcycle's front and rear wheels.

Your motorcycle must have an operational muffler.

Your motorcycle's handlebars may not be above your eye level when you ride.

Rider/Passenger Requirements

Riders and passengers under the age of 18 must wear a helmet.

A motorcycle must be fitted with a passenger seat and foot rests to carry a passenger.

Riders and passengers must wear eye protection if the motorcycle is not fitted with a windshield.

Licensing Restrictions

You must have a motorcycle endorsement to ride a motorcycle, unless you have a permit.

Permits are available to riders who are 16 years old or younger.

Permit riders may not ride a motorcycle with an engine piston displacement greater than 250 cc.

Permit riders may only ride between 4:30am and 9:00 pm.

Insurance Requirements

$25,000 of bodily injury or death insurance coverage for one person in a crash.

$50,000 of total bodily injury or death insurance coverage.

$25,000 of property damage insurance coverage.
Safety Tips
Become comfortable with your motorcycle before you ride it regularly. Most motorcycle crashes happen within five miles of where the motorcycle is started. This is because some novice riders haven't practiced enough in a safe area to build their skills. Taking the time to become comfortable with your motorcycle could prevent you from crashing in the future. So, take a few hours every day to practice riding in an empty parking lot or on low-traffic back roads. A motorcycle safety course would be a great way to build your skills and become comfortable riding.

Remember to prepare before you ride a motorcycle. You will be exposed to whatever the road has to offer when you ride a motorcycle, so you should dress appropriately. Wear durable clothes that will protect you in case you accidentally slide your motorcycle, jeans and a leather jacket should work well. Make sure that your helmet fits snuggly onto your head and that your chin strap is firmly secured for the most protection. Wear boots that come up above your ankles, this will make shifting gears easier and will give you more grip on your motorcycle's foot rests.

You should have more than just the minimum amount of insurance. Having only the minimum insurance can leave you in a bad situation. Besides having more medical and liability insurance, you should also consider the following coverages:

Comprehensive insurance will provide compensation for damages to your motorcycle that is not a result of crashing into another vehicle. For example, you will be compensated if your motorcycle is stolen or if you crash into a tree.

Under/Uninsured motorist coverage will give you compensation if your crash is caused by a person who does not have insurance or whose insurance carrier won't cover all of your damages.

Roadside assistance is particularly helpful for riders who are going for a long road trip. Roadside assistance will send a tow truck to pick you up if you break down on the side of the road, which is much better than trying to fix a motorcycle with limited tools on the side of the road.